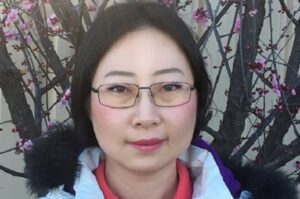 An Australian Rotary Health PhD Scholar is working on developing a digital solution to enable better care for people with dementia.
According to Zhenyu Zhang at the University of Wollongong, supporting caregivers to manage behavioural and psychological symptoms of dementia has been a long-standing challenge.
"To date, a large volume of personal health data has been generated in the process of dementia care, such as nursing documentation, medical records, and relative and friends' inputs," Zhenyu said.
"However, the valuable information of these data sets has not been effectively used to guide person-centred dementia care."
With a Rotary Club of Woy Woy 'Eric Abrahams' PhD Scholarship from Australian Rotary Health, Zhenyu is working to develop an ontology, or knowledge classification system, to represent dementia and dementia care knowledge in a computer readable format.
"This ontology can provide a tool for mapping information from different computer data sources to generate insight about a person with dementia and how to better manage the person's symptoms."
"It can also be used to extract quality dementia and dementia care information efficiently, and to produce easily understandable health reports for a variety of users."
Internationally, many Standardised Nursing Terminology and Classification Systems have been developed and applied in nursing practice and education. However, in a literature review Zhenyu conducted on Nursing Classifications, she found that in Australia, standardised terminology to describe nursing care practice is lacking.
"To my best knowledge, up to now, there is no specific nursing terminology to describe and standardise the terminology and classification for dementia care worldwide."
"This is a big barrier for using computers to support dementia care."
Although only in the early stages of her PhD, so far Zhenyu has presented her literature review findings at the Centre for IT-enabled Transformation and IEEE NSW Computer Society Joint Research Seminar.
Zhenyu is confident that the benefits of this research will extend to caregivers, aged care organisations, dementia care recipients, families of dementia care recipients and society.
"Application of data mining and machine learning technology in personal health data can offer enormous opportunity for us to better understand a person with dementia, what makes the person happy or upset, and which symptoms indicate the onset of behavioural and psychological symptoms of dementia."
We wish Zhenyu all the best with her research.
Media contact: Jessica Cooper – (02) 8837 1900 or jessica@arh.org.au